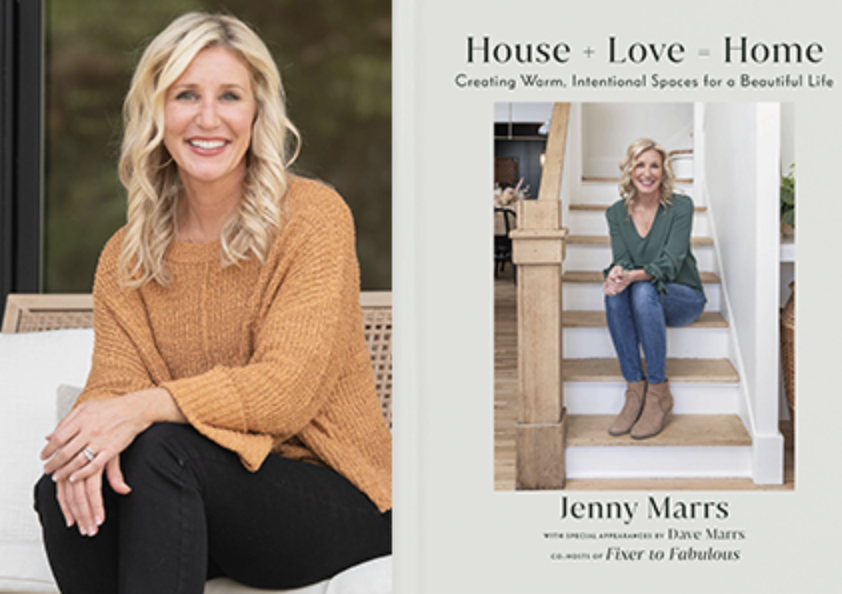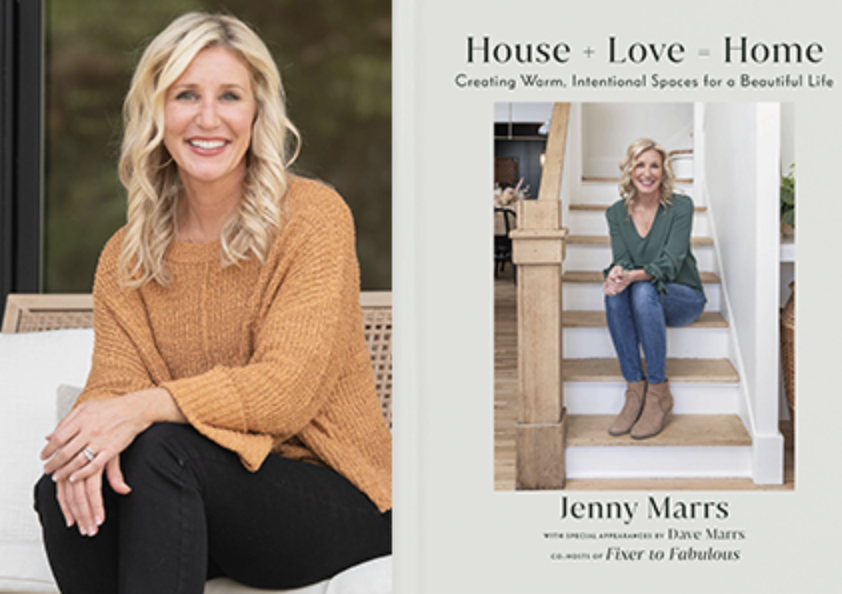 ABOUT THE NEW BOOK:  A welcoming guide to transforming any home into a beautiful, inviting space-from the hosts of the hit HGTV show Fixer to Fabulous. 
Beloved by millions of fans, Jenny and Dave Marrs from HGTV's Fixer to Fabulous have built and remodeled hundreds of homes over the last two decades, creating joyful, warm, and thoughtful makeovers in each one. At its heart, the Marrs believe a home needs to express the intentions of its inhabitants. They also believe your home should be beautiful–not based on how the latest trends define beauty, but as a reflection of who you are.
House + Love = Home is filled with:
4-Color Photos Throughout: Filled with never-before-seen gorgeous photographs of interiors, exteriors, family shots and more
Intentions: House + Love = Home highlights the twelve areas within a home that Jenny and Dave often remodel and show how each unique space can have intentional design elements that express the personalities of those who live there
Transformational Tips: these tips take a specific part of a home-everything from doors and shutters to lighting and flooring-and shows the most effective ways to enhance that area.
Alongside gorgeous photos of the Marrs' restored farmhouse, their delightful kids, and many other spaces they've reimagined, Jenny and Dave share their personal journey of establishing their own home, an ever-growing family and a busy, sustainable business. Woven throughout are wonderful essays by Jenny about their lives on the Marrs farm and how they seek to live intentionally with a deep abiding faith and purpose. As Jenny says, "Our company motto is the simplest of equations: House + Love = Home. Beautiful spaces are most often imperfect and full of character. Just like people. Perfection is never the goal. Living well is."
ABOUT JENNY MARRS: Jenny Marrs is a designer, writer, and passionate advocate for community transformation, family preservation, and orphan care around the globe. She is married to Dave, and they live on a small farm in Bentonville, Arkansas, with their five kids and too-many-to-count animals. She and Dave are the hosts of the hit HGTV show Fixer to Fabulous.
ABOUT BEV WEIDNER: Bev Weidner is the high-energy mom of boy/girl twins, Will and Natalie, the wife to a dude who has immorally good hair, Aaron, and an indie rock musician in my previous, pre-high waisted jeans life. Since 2010, I've been sharing recipes, stories, style, music and horrible advice TO ANYONE WHO WILL LISTEN. What started as a venue for creative comfort food has landed her travel around the world, a partnership with the Food Network, television commercial spots with big name brands, an avid content creator, and most important, a community of people who understand that anything is better with a good rosé and a good laugh.
EVENT DATE & TIME: Saturday, November 18, 2023, at 7:00 PM
EVENT LOCATION:  A Rainy Day Books Event at Unity Temple on The Plaza, Sanctuary, 707 W 47th Street, Kansas City, Missouri 64112. Complimentary Parking is available in the Parking Garage immediately adjacent to Unity Temple.
ADMISSION PACKAGE:  $33.00 plus Eventbrite Ticket Fee includes 1 Hardcover of House + Love = Home, 1 Admission Reservation, and 1 Guest Admission Reservation (if needed). It's your choice, for the same Price. General Admission Seating.
EVENT FORMAT: Jenny Marrs will be In Conversation with Bev Weidner about her life, work, and new book House + Love = Home. A Meet & Greet follows the program.
ORDER ADMISSION PACKAGES THROUGH EVENTBRITE:  https://jennymarrskansascity.eventbrite.com
PLEASE NOTE: Patrons will receive their Autographed Books as they arrive at this Event.